EXCEPTIONAL CATERING FOR WEDDINGS
"Our wedding was amazing…"
Michelle's Catering creates unforgettable wedding celebrations that take you and your guests on an amazing culinary journey. Our valued clients receive an exceptional level of service and attention, and we incorporate your vision into every detail.
"Words cannot express how happy our amazing the food was at our wedding.  The salmon was incredible and the steak was to die for. We would recommend Michelle's Catering to anyone and I have already posted a 5-star review on WeddingWire."
— Sally and David
"Michelle's Catering is the best. The presentation was first-class and the pasta station was incredible. From start to finish, their entire team was a pleasure to work with."
— Mary and Stephen
"Michelle and Anthony are caring and amazing people, and they put their heart and soul into our wedding. They handled every moment so we could enjoy the day with our guests."
— Theresa
"Michelle's Catering was absolutely phenomenal! Michelle, the staff, and the food all exceeded expectations. Michelle was incredibly hands on leading up to and throughout the entirety of the wedding which gave us tremendous peace of mind."
— Amy & Greg
"Michelle's Catering did a wonderful job catering our wedding. Michelle and Anthony are an amazing team and a pleasure to work with. The food was delicious and the menu is quite extensive. The appetizers were a hit and displayed so beautifully. The servers were lovely, timed each course perfectly, and left the kitchen immaculate."
— C.N.
"Michelle and her team put together an incredible feast that wowed our guests and made our wedding the elegant winter celebration we hoped it would be. We would highly recommend Michelle's Catering to anyone."
— Allison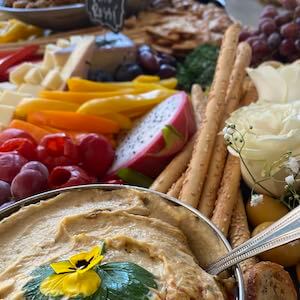 GRAZING STATION
Picture your guests enjoying a selection of Imported Cheeses and Cured Meats, paired with Fruits, Vegetables, and Assorted Jams.

PASSED HORS D'OEUVRES
As your guests begin to mingle, a beautifully decorated board is presented that offers grilled Garlic Crostini with Goat Cheese, Hot Honey, and Marinated Fig.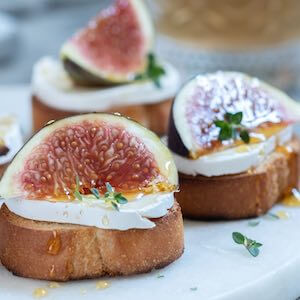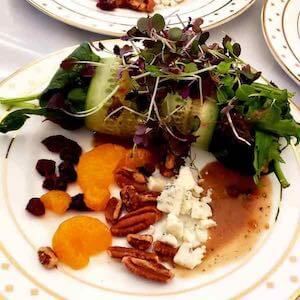 SALAD COURSE
The first course has been served, and all will enjoy an English-rolled Cucumber with Spring Mix, topped with Balsamic Dressing, Craisins, Glazed Pecans, Gorgonzola Cheese, and Mandarin Oranges.

MAIN COURSE DUET PLATE
The time has come to enjoy the long-awaited main course, which arrives at the table as a duet plate including Filet Mignon and Grilled Lobster Tail, with Clarified Butter Baby Carrots and Garlic Mashed Potatoes.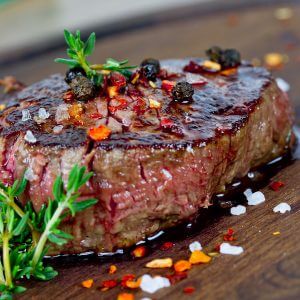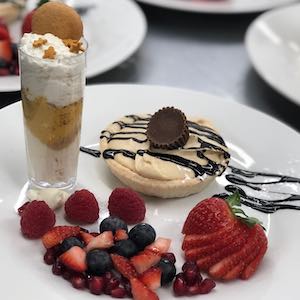 SWEETS & TREATS
Alongside of your delicious plated Wedding Cake, consider offering a tasting plate of desserts to include seasonal Mousse, assorted Berries, and an individual hand whipped Chocolate Peanut Butter Cup drizzled with Godiva Chocolate.
White Glove Butler Cocktail Reception
Cocktail Reception Menu
Italian Rice Ball with Gouda Cheese in the center and coated in Panko Breading with Marinara Dipping Sauce
Beef Tenderloin wrapped in Puff Pastry accented with Mushroom Duxelles
Apples, Goat Cheese, Walnuts and Caramel on a Toasted Crostino
Chorizo wrapped in Dates and draped with Hickory Smoked Bacon
Fried Chicken atop a Decadent Buttermilk Waffle with hints of Honey and Smokey Chipotle Spice
Empanadas, traditionally filled and hand wrapped in our Empanada Dough
Lobster Macaroni and Cheese Delight served in individual ramekins
Angus Burgers with Smoked Bacon and Sharp Cheddar on a Potato Roll
Ruby Red Beets, Golden Sweet Potatoes, Silky White Parsnips seasoned with Rosemary, Thyme and Himalayan Pink Salt
Jumbo Shrimp and Andouille Sausage skewered with a delicate dusting of Old Bay Seasoning and Grilled Onion
New Zealand Mini Lamb Kabob grilled to perfection with a Mint Yogurt Dollop
Deviled Eggs presented with a Creamy Mix Chive and draped with Prosciutto de Parma
Individual Stuffed Endive with Beet, Walnut Goat Cheese and drizzled with Balsamic Glaze
Sushi Grade Ahi Tuna with Sesame Crust and Wasabi Pipette
Sliced Nova Smoked Salmon atop Gournay Cheese and Pumpernickel Toast
An elegant blend of Lobster Claw and Knuckle Meat served in a Lightly Buttered Roll
Display of Assorted Mini Dessert Delicacies
Coffee and Gourmet Tea Service
Passed Hors D'oeuvres
Served on elegant, decorated trays to coordinate with theme:
Sweet Potato Crisps with Whipped Goat Cheese and Ossetra Caviar
Smoked Shrimp Cocktail Shooters with Roasted Corn Lemon
Australian Baby Lamb Chops with Creamed Pomegranate Relish
Burrata Bolognese in Polenta Nest
Chicken and Zucchini Ribbon Skewers with Cashew Pesto Sauce
Smoked Salmon on Cucumber with Crème Fraiche, Red Onion and Capers
First Course
Quattro Formaggi Lobster Macaroni and Cheese Terrine served with Shelled Lobster Claw
Mid Course
Arugula Salad with Tri Color Beets, Shaved Ricotta Salata and Lemon
Main Course – Choice of:
Dry Aged Bone-In Ribeye over a Maple Bacon Coulis and a dollop of Bourbon Butter
Seared Pistachio Crusted Seabass with Lemon Oil Essence
All served with Purple Rosemary Potato and Baby Rainbow Carrot Bundles
Dessert Course
Opera Cake with layers of Almond Biscuit, Coffee Buttercream and Ganache served with Caramel Nest and Fresh Berries
Coffee and Specialty Tea Service with Accoutrement
Brunch Weddings With Style
Our Most Popular Brunch Menu
Bloody Mary Bar Garnishes
Artisanal Breads, Bagels, Pastries and Fresh Fruit
Smoked Salmon Bruschetta, Chive Cream Cheese, Capers and Radish
Brioche Bread Pudding with Warm Bourbon Sauce and Glazed Pecans
Breakfast Creation: Omelets to order with classically enjoyed ingredients
Seafood Petite Quiche
Sourdough Avocado Toast together with Kalamata Olives
Breakfast Bacon, Sausage and Roasted Red Potato Station
Prime Rib Carving Station with Au Jus, Creamy Horseradish Sauce and Bordeaux-Style Blend Wine Sauce
Gourmet Pasta Station with Four-Cheese Sacchetti and Squid Ink Fettuccine. Sauce collections include Roasted Red Pepper and Basil Pesto Cream Sauce, Blistered Cherry Tomato, White Wine and Shaved Pecorino Romano
Display of Assorted Mini Dessert Delicacies
Coffee and Gourmet Tea Service
We bring all the pieces together.
In addition to our culinary creations, our decor and design team can assist you in creating a beautiful event. We can also arrange all of your rental needs. Visit the ribbon links below for more information.
Start a conversation with Michelle's Catering about your event.
Share the details and we will connect with you promptly.
Start a conversation with Michelle's Catering about your event.
Share the details and we will connect with you promptly.